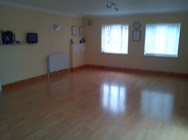 Private dance
lessons are available for adults of all ages, abilities and experience - complete beginners are welcome as are ladies without partners.
All lessons are held with Steven Porter (Licentiate ISTD & IDTA).
Lessons are 1hr long and may be booked on Saturdays and Sundays only between 10am and 6pm (please note mid week lessons are not available).
The following dances are offered:
Ballroom - Waltz, Foxtrot, Quickstep, Tango, Viennese
Latin - Rumba, Cha Cha Cha, Samba, Jive, PasoDoble
American Smooth - Waltz, Foxtrot
Modern Sequence: Dances by Request - see sample Sequence Dance list below.
Emphasis is given to sound technique and the ISTD syllabus is used to provide a structured learning programme for all levels (Beginner, Bronze, Silver, Gold and above).
Emphasis on leading and following is given with instruction on how to combine figures into variable routines for social dancing.
Sequence Dances Available
Rumba One
Rumba Diago
Queen of Hearts Rumba
Kensington Rumba
Radbourne Rumba

Sally Anne Cha Cha Cha

Balmoral Blues

Cindy Swing
Robins Swing

Saunter Together
Saunter Shiraz
Tiffany Saunter

Mayfair Quickstep

Tango Serida
Tina Tango
Obsession Tango

Melody Foxtrot
Idaho Foxtrot

Catherine Waltz
Emmerdale Waltz
White City Waltz
Waterfall Waltz
Wicked Waltz
Woodside Waltz

Midnight Jive

Argentine Stroll
Alpine Stroll